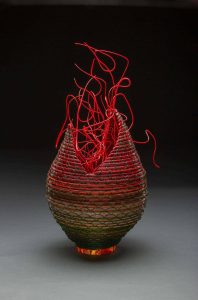 NATIVE GRASSES  –  In Harmony with Fire
Fire as Medicine.  Stewardship. Cultural Burning.  Indigenous people across the globe learned to manage and live in harmony with fire over thousands of years.
From my roots in the Midwest, I try to envision the bountiful grasslands and forests that flourished a mere century ago.  As a contemporary basket weaver, I reflect on the universality of baskets made with local grasses.  By utilizing the most common of nature's gifts, a weaver transforms it into a functional tool aiding daily life.
In Harmony with Fire is an adaptation of the traditional coiled grass baskets.  To represent the grass, I have chosen tiny glass threads, called stringer, which are bundled and shaped in a kiln-forming technique.  Waxed linen is used to twine the grass-like bundles of glass together.
I often muse comparing my eclectic basketry with my diverse heritage of German/Shawnee and English/French.  How rich we are when we meld and blend for the betterment of all!  We can shape a new path where respect for the land and for each other is one and the same.
This first 'Native Grasses' sculptural flame-vessel illuminates the historical significance of indigenous practices worldwide.  These sacred cultural burnings were beneficial to the land and to the health of the population. It is the story of the annual spring growth of the emerald-green grass, the summer drying, and the ceremonial burning allowing the cycle to repeat anew.